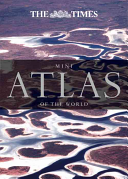 $19.99
AUD
Category: Reference Books
A pocket-sized Times Atlas of the World packed with the essentials, fully revised and improved to take account of all recent changes from around the world. The whole world is covered with the accuracy and authority for which Times atlases are renowned. This is a handy reference atlas for home, school or office. MAIN FEATURES * 117 pages of authoritative up-to-date mapping of the whole world. * Geographical reference section with flags, statistics and facts for the world's states and territories. * Statistics and world maps on major geographical themes, including population, cities, climate and the environment. * Over 20,000 index entries. ...Show more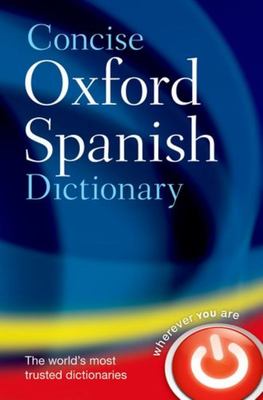 $47.95
AUD
Category: Reference Books | Series: Dict Ser.
Completely updated to include all the latest vocabulary, this fourth edition of the Concise Oxford Spanish Dictionary contains coverage of over 175,000 words and phrases, and 240,000 translations. It includes a comphrensive correspondence guide with sample letters, emails, and CVs, plus fun and informat ive cultural notes on life and living in the Spanish-speaking world. This new edition also features new sections on Spanish as used around the world, false friends and Spanglish, as well as an entirely new internet section helping with everyday online activities from booking tickets to banking online. The Concise Oxford Spanish Dictionary is easy to use, with a clear layout featuring a two-colour text design and printed thumb tabs for quick reference. ...Show more
$14.95
AUD
Category: Reference Books
This small dictionary offers the most accurate and up-to-date coverage of essential, everyday vocabulary with over 90,000 words, phrases, and definitions based on evidence from the Oxford English Corpus, a unique databank comprising hundreds of millions of words of English. Definitions are easy to under stand, given in a clear, simple style, and avoiding technical language. Access our free dictionary service Oxford Dictionaries Online at oxforddictionaries.com. ...Show more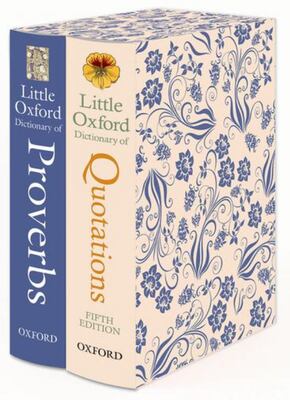 $28.95
AUD
Category: Reference Books
From Shakespeare and Oscar Wilde to Fidel Castro and Dolly Parton, the Little Oxford Dictionary of Quotations features 4,000 of the best quotations of past and present. Packed with quotable quotes on over 300 themes from 'Parties' to 'Punctuality', and from 'Apology' to 'Toasts', this is the ideal tool for finding exactly the right words to express yourself in any situation. Its perfect complement is the Little Oxford Dictionary of Proverbs, which includes fascinating information on 2,000 proverbs and sayings from around the world and across 250 subjects - from 'Cats' and 'Dogs' to 'Achievement' and 'Extravagance'. Here are classic quotations from writers like Helen Keller ('Life is either a daring adventure or it is nothing'), sharp remarks of today 'I'm just trying to change the world one sequin at a time' (Lady Gaga), and proverbs old and new, from the traditional 'Union is strength' to the African saying 'A single bracelet does not jingle'. Between them, these two charming little books will have the perfect words for whatever you want to say. ...Show more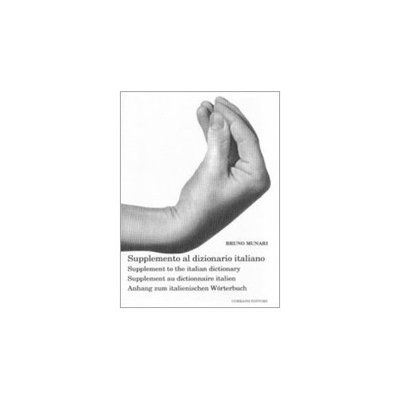 $29.99
AUD
Category: Reference Books
This entertaining supplement to the Italian dictionary examines the various ways of expressing oneself without words, using the hands, expressions of the face and body gestures. An essential guide for anyone who really wants to learn Italian.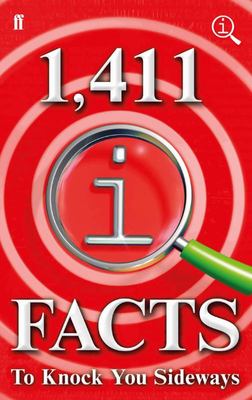 $22.99
AUD
Category: Reference Books | Series: Quite Interesting Ser.
1,227 QI Facts blew your socks off. 1,339 QI Facts made your jaw drop. Now the QI team return with this year's groaning sack of astonishment. All new facts! Prepare to be knocked sideways...Orchids can get jetlag. Lizards can't walk and breathe at the same time. There are 177,147 ways to tie a tie. Lady bird orgasms last for 30 minutes. Traffic lights existed before cars. Sir Bruce Forsyth is four months older than sliced bread. The soil in your garden is 2 million years old. If there are any facts you don't believe, or if you want to know more about them, all the sources can be found on qi.com. ...Show more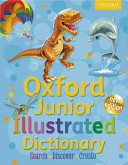 $29.95
AUD
Category: Reference Books | Series: UK Bestselling Dictionaries Ser.
This new 2011 edition of the Oxford Junior Illustrated Dictionary features over 4,000 entries in alphabetical order, new illustrations and photographs in a contemporary and easy-to-use design. Entries are simple and clear, and include numbered meanings, word classes, inflections and example sentences. E asy to find design with the full alphabet on every page, and coloured tabs dividing the alphabet into quartiles, the letter of the page is highlighted, and guide words show the words starting and finishing each page. Children quickly learn how to find their way around and build their alphabetical reference skills. What's more there are linked fun word activities for school and home on the www.oxforddictionaries.com/schools website. ...Show more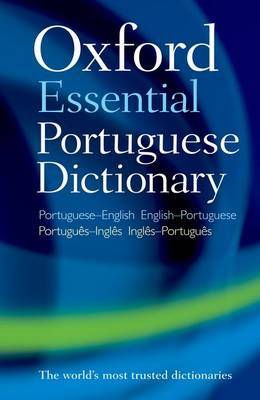 $19.95
AUD
Category: Reference Books
The Oxford Essential Portuguese Dictionary is a compact Portuguese-English and English-Portuguese dictionary that offers up-to-date coverage of all the essential day-to-day vocabulary with over 40,000 words and phrases and 60,000 translations. This dictionary is easy to use and ideal for travel, work, o r study. The latest words in each language have been added, reflecting all aspects of life today, from computing and technology to lifestyle and business. Additional features include guides to Portuguese and English pronunciation, as well as help with both Portuguese and English verbs. The dictionary is based on Brazilian Portuguese with extra information where European Portuguese is different. All the latest spelling reforms have been included. The Oxford Essential Portuguese Dictionary is ideal for anyone in need of a handy quick reference. An essential book for the study of Portuguese. ...Show more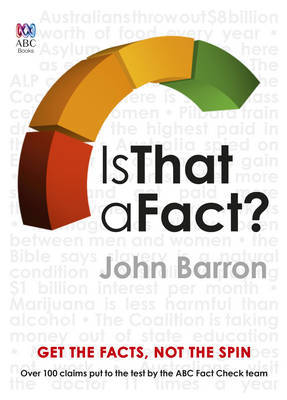 $24.99
AUD
Category: Reference Books
Australia takes the highest number of refugees per capita in the world; vegetarians are slimmer than meat eaters; Clive Palmer is a billionaire ... Every day the ABC Fact Check unit listens to scores of claims being made in the news and asks, 'can that be true?'. Then, after checking several sources, th ey bring you the correct answer. In this compact new book the Fact Check team, headed by ABC broadcaster John Barron, pull together the facts on over one hundred burning questions. Whether shark culls really work, whether sugar is bad for you, whether any political party really has created a million new jobs. They tackle the fact check zombies; the claims which simply will not die and they target the unit's 'superstars', public figures who play fast and loose with the truth. Fun, informative and completely trustworthy, this is a book for everyone who's ever wondered if the truth is out there... ...Show more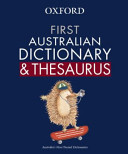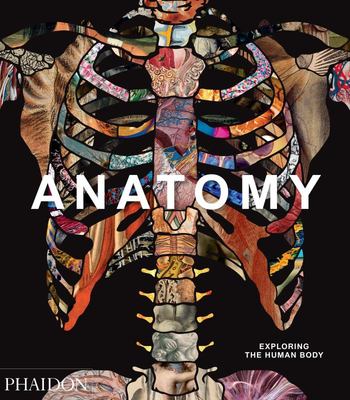 $79.95
AUD
Category: Reference Books
A stunning tribute to our eternal fascination with the human body - and the latest in the bestselling 'Explorer' Collection Anatomy: Exploring the Human Body is a visually compelling survey of more than 5,000 years of image-making. Through 300 remarkable works, selected and curated by an international p anel of anatomists, curators, academics, and specialists, the book chronicles the intriguing visual history of human anatomy, showcasing its amazing complexity and our ongoing fascination with the systems and functions of our bodies. Exploring individual parts of the human body from head to toe, and revealing the intricate functions of body systems, such as the nerves, muscles, organs, digestive system, brain, and senses, this authoritative book presents iconic examples alongside rarely seen, breathtaking works. The 300 entries are arranged with juxtapositions of contrasting and complementary illustrations to allow for thought-provoking, lively, and stimulating reading. ...Show more
$59.99
AUD
Category: Reference Books
100 years after its first publication, the twelfth edition of this world-famous bestseller gives the most up-to-date picture of the English language today. The original 1911 edition, revolutionary at the time for its focus on current English and its use of illustrative examples, combined a succinct yet approachable style with coverage of everyday as well as specialist terms. This centenary edition continues this ground-breaking tradition, giving you rich authoritative coverage of English as it is used today. Includes 12 months' access to Oxford Dictionaries Online at oxforddictionaries.com. This edition includes a bonus booklet detailing the history of the Oxford Concise Dictionary. ...Show more